Trailer sway is the leading cause of trailer accidents in the United States. And while new drivers are more likely to suffer an accident due to trailer sway, the truth is that trailer sway can cause problems for even the most experienced drivers. The good news is that there are some simple steps you can take to prevent your trailer from swaying. Below are seven savvy tips to avoid trailer sway on the road.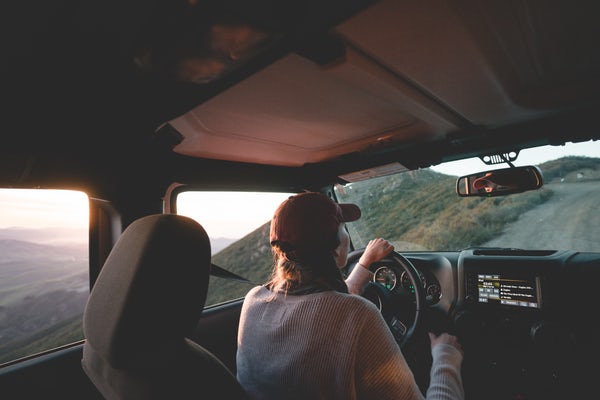 1) Load your trailer with care
The path to a sway-free driving experience begins with a carefully planned loading process. Failure to properly load your trailer can lead to cargo damage, lost cargo, and an increased risk of trailer sway. Here are a few key loading measures you can take to help prevent your trailer from swaying:
Never overload your trailer or exceed the trailer's maximum gross weight specification
Always secure your cargo to prevent your load from shifting during travel
Strive to load 60 percent of the cargo weight in the front half of your trailer box
Make sure cargo is not extending out the rear of your trailer
2) Make sure your trailer is properly hitched
"You can help to reduce the possibility of trailer sway by carefully connecting the trailer to your tow vehicle...Also, always make sure that the latch on the hitch itself is closed. An improperly hitched load can cause sway as well as lead to loss of control should sway become a significant issue."
- James Hills, ManTripping
Once you have carefully secured your load, it is time to ensure that your trailer is properly connected to your vehicle. A hasty connection or failure to close the latch on your hitch could limit your ability to control your trailer and increase your risk for trailer sway. Before you depart, make sure that you have double checked your hitch connection, taking the following measures:
Lift your trailer with the tongue jack to verify that your connection is secure
Make sure that your safety chains are securely hooked
Confirm that your trailer is level or at a slight incline
Make sure your signals and brake lights are properly functioning
3) Keep a watchful eye on the weather
The last thing you should do before you hit the road is to check the weather forecast one final time. Strong crosswinds and gusty winds over 20 mph can amplify your risk of trailer sway, especially if you are hauling an empty trailer. Wet or icy roads can make roadways even more hazardous, creating conditions that are ideal for trailer sway.
4) Refrain from speeding - especially when driving downhill
"Excessive downhill speed causes unstable trailer and tow vehicle combinations. As a tow vehicle speeds up, the heavy trailer tracking behind it will move even faster. Any braking action could cause the trailer to put excessive force on the tow vehicle and promptly start a fishtailing action."
- Rene Agredano, RV Life
Refraining from speeding helps prevent trailer sway and costly speeding tickets. The driving experts with RV Life offer the following speed-related tips to help prevent trailer sway:
Maintain a safe driving speed, especially during a descent
Do not overuse brakes
When you need to, slow down, then downshift into a lower gear
If you notice trailer sway, use your manual trailer brake to slow down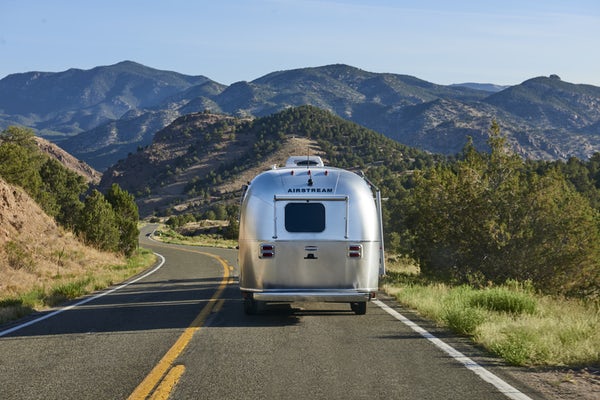 5) Consider investing in a trailer with a fifth wheel
"5th wheel trailers are more stable due to the 5th wheel hitch being positioned over and close to the tow vehicle's rear axle. In the case of a 5th wheel, lateral forces do not affect it like a trailer that is hitched at the rear of the tow vehicle."
- Mark Polk, RV 101
This strategy is an excellent option for haulers who are in the market for a new trailer. Investing in a trailer with a fifth wheel helps prevent sway by providing additional traction for your trailer. There are other advantages to choosing a trailer with a fifth wheel as well. Camping World notes that fifth wheel trailers are typically easier to maneuver and considered to be safer to tow. Finally, fifth wheel hitches offer a superior turning radius.
6) Always keep your trailer tires properly inflated
If your tires are not sufficiently inflated, your trailer is more likely to sway. Insufficient inflation can also weaken the walls of your trailer tires and cause them to box. You can help avoid this pitfall by regularly checking your tire pressure before you depart and while you are on the road. In addition to helping to prevent trailer sway, keeping your trailer tires inflated to their max psi will extend the life of your tires and help you achieve better fuel mileage.
7) Do not overreact if you experience trailer sway
Trailer sway can cause some drivers to panic and over-correct. Other drivers react by slamming on the brakes. If trailer sway is endangering you and your load, the best thing to do is to slow down by downshifting into a lower gear and pull off the road if necessary. And be sure to check your trailer hitch, your load, and your tire pressure before you return to the roadways.
What is the surest path to avoiding trailer sway?
Preventing trailer sway requires care and a proactive approach. The steps outlined above will minimize the conditions that can put you and your trailer at risk for trailer sway. But the surest means of preventing trailer sway is to reach out to an expert in the trailer hitch manufacturing industry. A specialist in the trailer hitch industry can discuss your vehicle, your trailer, and the nature of your load to come up with a specific plan to help you avoid trailer sway.
Fortunately, the nation's most trusted trailer hitch experts are only a phone call away. For over 20 years, the trailer hitch specialists at ProPride have provided the latest cutting-edge solutions designed to eliminate trailer sway. The ProPride 3P Trailer Sway Control Hitch is easy to install and manufactured with durability and driver safety in mind. We invite you to contact us to find out how we have helped thousands of customers prevent trailer sway. We look forward to helping you and your trailer travel smoothly and safely!